| | | |
| --- | --- | --- |
| Some ugly solution to cool down PC based servers | | |
Proper ventilation is critical for hard disk and for PC based Unix servers. Common symptom to overheating would be a SIG 11 trap and the system would halt.
The standard PC architecture, with a single extraction fan on the power supply, does not provide proper ventilation so extra fan must be added whenever it is possible, and wherever it is needed.
Ideally, hard disk should be submitted to a constant air flow on top and bottom side. Air flow can be from right to left, from front to back or back to front, it does not really matter, but the air flow must be there. Considering a PC chassi, the disk is often mounted under the flopy drive, where no air flow at all is provided.
What fan to use?
One of the best and cheapest solution is to use fans collected from old PC power supply. Remove the old power supply from the PC box, open it and get the fan, with maximum of power wire.
When old fan cannot be found, new ones can be acquired at very low price (under $5) from many PC shop.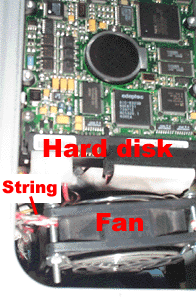 Those fan will mount nicely on most of the fan spaces available on new PC server boxes.
Rule 1
Add fans wherever space is provided on the chassi.
Many PC chassies have a location to add one or more fan, so add fan on those spaces. Additional fans should be blowing fresh air inside the box, increassing the air pressure inside the PC. Do not worry, the air will always manage to evacuate the box.
Blowing inside the box slightly increase the sound level, but it is by far the safest solution.
Rule 2
Provide proper power supply connector:
use connector of the type that connect to hard disks and peripherals
avoid connection by twisting power wire together
avoid electric tape
do clean job
Power supply connector is is a couple of $ and will save a lot compared to a lame connection and a short circuit.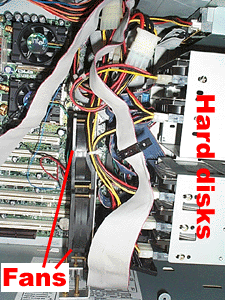 Fan are using 12 V, it should go to yellow and black wire.
Rule 3
Provide air flow to the hard disks:
disks should be mounted with enough space between them so proper air flow can be assured
a fan should be blowing directly onto the disk to maintain a constant air flow
do not hesitate to add fans inside the PC box to blow directly onto the disk
And now some ugly solutions:
the top two pictures concern an old server (well it is still in use, but the inciminated disk had been removed) where the Quantum hard disk tend to over heat very often. Obviously, extra cooling was needed for this disk.
No mounting bracket was available so the fan had been suspended from the top of the chassi, using a piece of string (red and white) that can be clearly seen on the picture.Grid was used on both side of the fan, to prevent cables to get inside.
Would you beleive it, it worked smoothly for several years.
the next picture concerns a new server, with a battery of 5 hard disks. Those are Seagate, so not so critical about over heating.
To provide proper air flow on the disk surface, a couple of fans are used, they are mounted on home made aluminium brackets, that are fixed to the bottom of the server box.
lastly, this is not a hard disk, but a tape drive. Measurement have shown about 10ºC difference temperature with or without the fan blowing on the tape drive, after one hour of continuous streaming.
It is recommended that enough airflow is provided trought the tape drive front door. As it cannot be easily achieved for internal units that are mounted in standard PC chassi, I resolved to suspend a fan between the power supply and the back of the drive. This fan is blowing directly on the tape drive. It should be noted that the fan is a bit bigger than the ones found in power supply boxes. It comes from an old 286 NEC machine, it could be fitted because it is suspended and do not rely on some mounting holes.
In that very vase, care had to be taken that the screw used to mount the net at the back of the fan, would not touch and damage the SCSI-160 cable.